Foreign Customer:order information

mail
Please contact us at first to press this bottonmail, and you could open our e-maile order sheet. Return to "Top Page"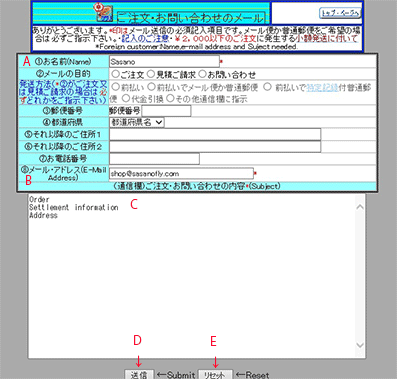 When you click D your confirmation page will be appeared. Please check again. Then click left button as submit.
Right button is "return to the firast page". Domestic postal cord is no necessary to check but fill.
This is the final step to send your e-mail to us. Please note that all English information is not appeared in our order sheet, only for your convenience.
As soon as we receive your order sheet we will try to send you our reply by return.
We trust that most over sea customers are looking for very Japanese fly fishing tackles. We recommend you to try to open the following pages as under for the first time. These all inventories are made by hands and very best Japanese quality. We have exported some of these inventories to Europe and USA.

You will find this first page. Please describe A (your Name), B (mail address) and C (subject) as samples. Then click D. You could also click E if there are some errs crept in your message. Please fill A, B and C again.